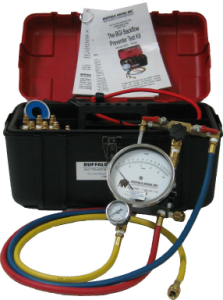 The Buffalo Backflow BBI-TK9S Backflow Preventer Test Kit is a compact portable testing device made for testing all reduced pressure zone backflow prevention assemblies, double check, and PVB valve assemblies.
Buffalo Backflow Preventer Test Kit is ready to use right out of the box, with a NIST traceable certification, rugged foam-lined carrying case, and adapters.
Buffalo Backflow's Backflow Test Kit & Calibration
Call for Prevention Kit Pricing 716-775-9157
*** Free Yearly Calibration Recall Reminders included ***
When you purchase a Buffalo Backflow Preventer Test Kit, you are entered into our database that automatically sends you a reminder 60 days in advance of your calibration and certification date. Sign up for Certification Reminders! This gives you plenty of time to get the kit in for calibration and keeps you in compliance with State and local regulations.
Specifications:
Maximum working pressure: 175 psi
Maximum working temperature: 210 F Gauge: 41/2″
In line pressure gauge: 0-200 psi
(1) High-performance elastic "Bungee" chord
(1) A case with tool tray with compartments for fittings
Adaptors:
(3) 1/8″ NPT X 1/4″ Flare
(3) 1/4″ NPT X 1/4″ Flare
(3) 1/2″ X 1/4″ Bushing
(3) 3/4″ X 1/4″ Bushing
(1) Moisture resistant instruction guide, pocket size, with hanging ring
Case: lightweight, shock resistant molded plastic with foam inserts
            Features & Benefits: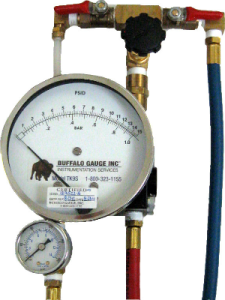 Teflon Lined Ball Valves
— Easier to use than the competition
— Valve is easy to grip with wet or greasy hands

NIST Traceable Certification
— Good For One Year
— Automatic Reminder Sent To You 60 Days before Certification Lapses
In Line 0-200 PSI High-Pressure Gauge
(No Need To Carry An Extra Gauge)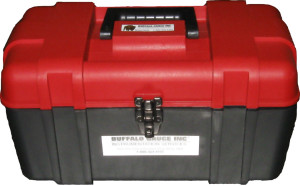 Rugged, Foam Line Tool Box
— Plenty of Room For Fittings, Tools, and Instructions.
— Much More Room Than The Competition's Plastic Case.
Top Tray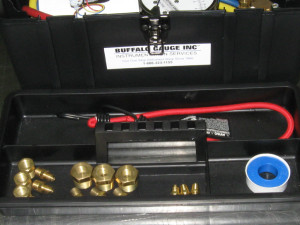 — Giving You Lots Of Room For Fittings
— Bungee Cord
— Teflon Tape
— Easy To Properly Stow Away Your Kit.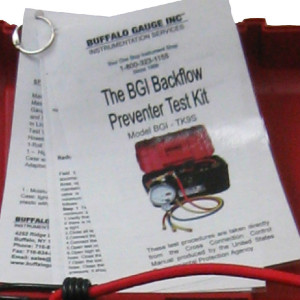 Laminated Instructions
— Sized to fit in your back pocket
— Come with a large ring, so they can be hung from the bungee, keeping both your hands-free to work